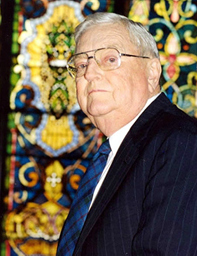 Dr. John H. Leith (1919–2002)—Presbyterian minister, pastor, churchman, Calvin scholar, theologian, professor, friend, and mentor—established the Foundation for Reformed Theology to provide for the ongoing education of Presbyterian pastors in Reformed theology and, through them, for the renewal of congregations of the church of Jesus Christ and for carrying on the Reformed tradition.
Leith received a B.A. from Erskine College in 1940, a B.D. from Columbia Theological Seminary in 1943, an M.A. from Vanderbilt University in 1946, and a Ph.D. from Yale University in 1949. He served as pastor of Second Presbyterian Church in Nashville, Tennessee, and of First Presbyterian Church in Auburn, Alabama. He taught historical theology at Union Theological Seminary in Virginia from 1959 through 1990.
Leith wrote for the church. Introduction to the Reformed Tradition: A Way of Being the Christian Community (1977, 1981) provides his fullest statement of the Reformed heritage. It has been translated into Korean and Portuguese, and a British edition has been published. Reformed Imperative: What the Church Has to Say That No One Else Can Say (1988) sets forth the distinctive affirmations of the Christian faith. The church is to proclaim the gospel of Jesus Christ and to leave social analysis and prescriptions to others. Basic Christian Doctrine (1993) includes a chapter on each of the major doctrines of the Christian faith.
Portrait of John Leith presented to Union Theological Seminary